New Lungs for a 101-Year-Old Home Pt.3: Heat Pump Water Heater!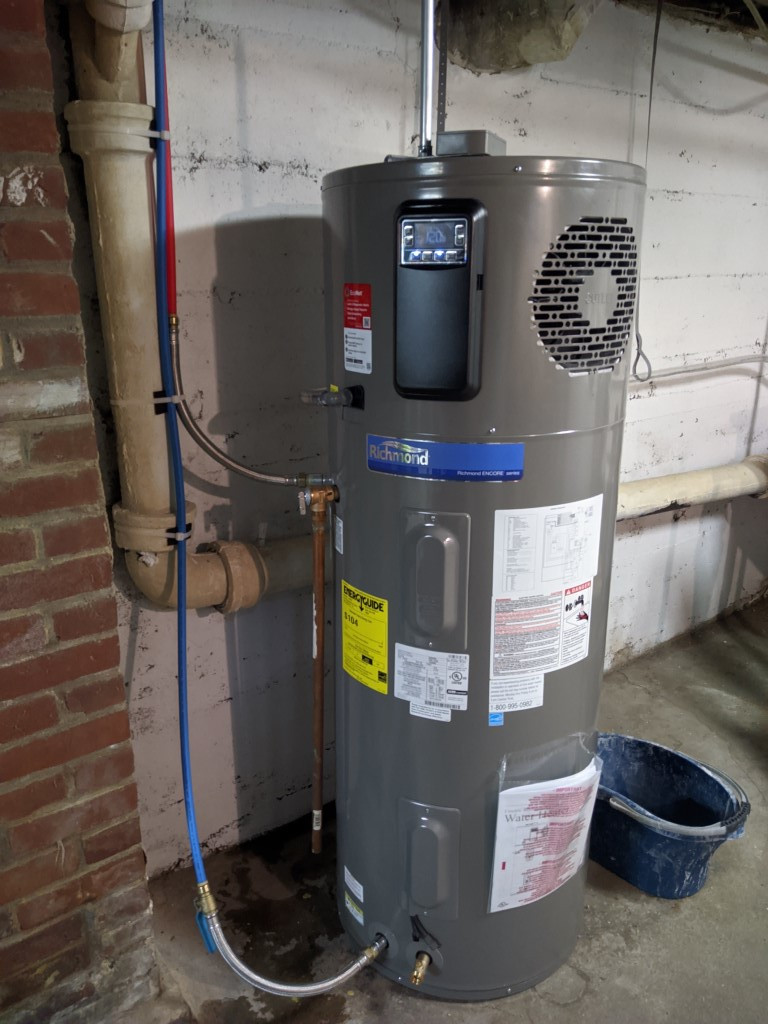 Key Points:
• This is a continuation of our "New Lungs for a 101-Year-Old Home" project (part 1, part 2), where we upgraded our old 1919 home with brand new, high efficiency heat pump heating and cooling from Mitsubishi, and use a CERV2 to provide fresh air into the home.
• Heat pump water heaters are efficient, economical, and affordable! Rebates and tax credits bring the payback to around 2 years for this replacement!
• Heat pump water heater model: Richmond 50 Gallon Hybrid Smart Electric Water Heater, 10E50-HP530. (This is the exact same model as Rheem XE50T10H45U0).
CERV Retrofit - New Lungs for a 101-Year-Old Home
Written by Alex Long, co-founder of Build Equinox
Hello again! As promised, we've continued the retrofit project, and now have a heat pump water heater! The gas meter has been removed, and Ameren Illinois has severed the underground natural gas pipes to the house. Not only that, but they tore up our lawn in the process and have not done anything to clean up the big dirt pile and machinery tread marks. Very cool Ameren Illinois!
While the rest of the HVAC replacement was quite involved, replacing your water heater isn't as hard as you think.
Step 1: Spend your hard-earned money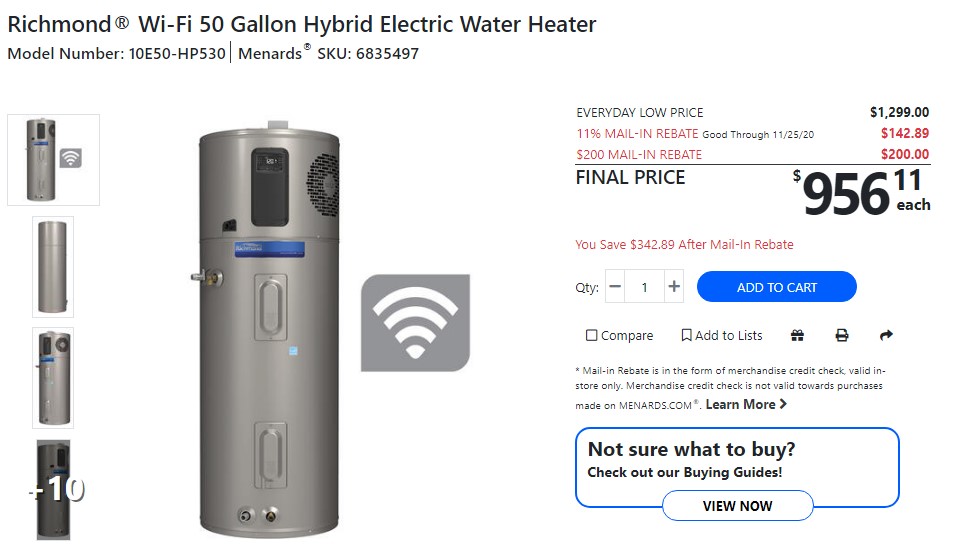 I purchased mine from Menards, because they had the best rebates. Purchase price of $1299.00, minus an 11% rebate and $200 mail in rebate (the $200 rebate may not be available anymore) comes out to $956.11. But wait, there's more!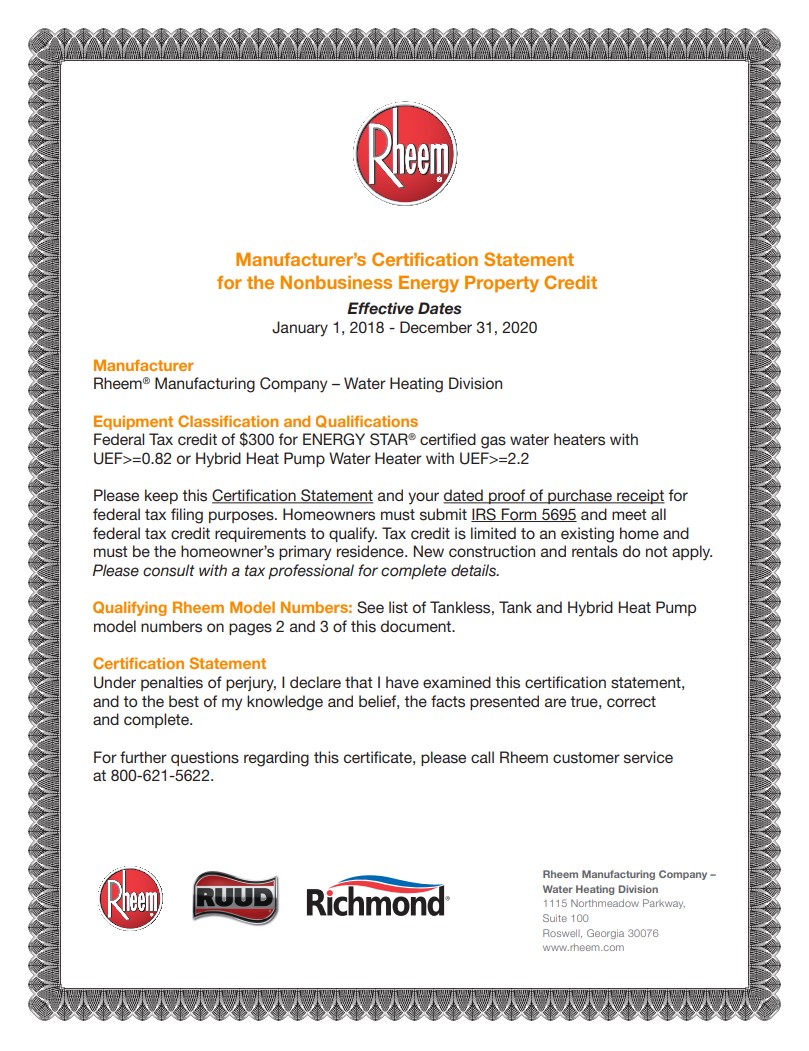 Another $300 federal tax credit? Yes please. Now we're down to $656.11. Look up what a new 50-gallon gas water heater costs (even the inefficient ones), and you'll be pleasantly surprised to see that this is less.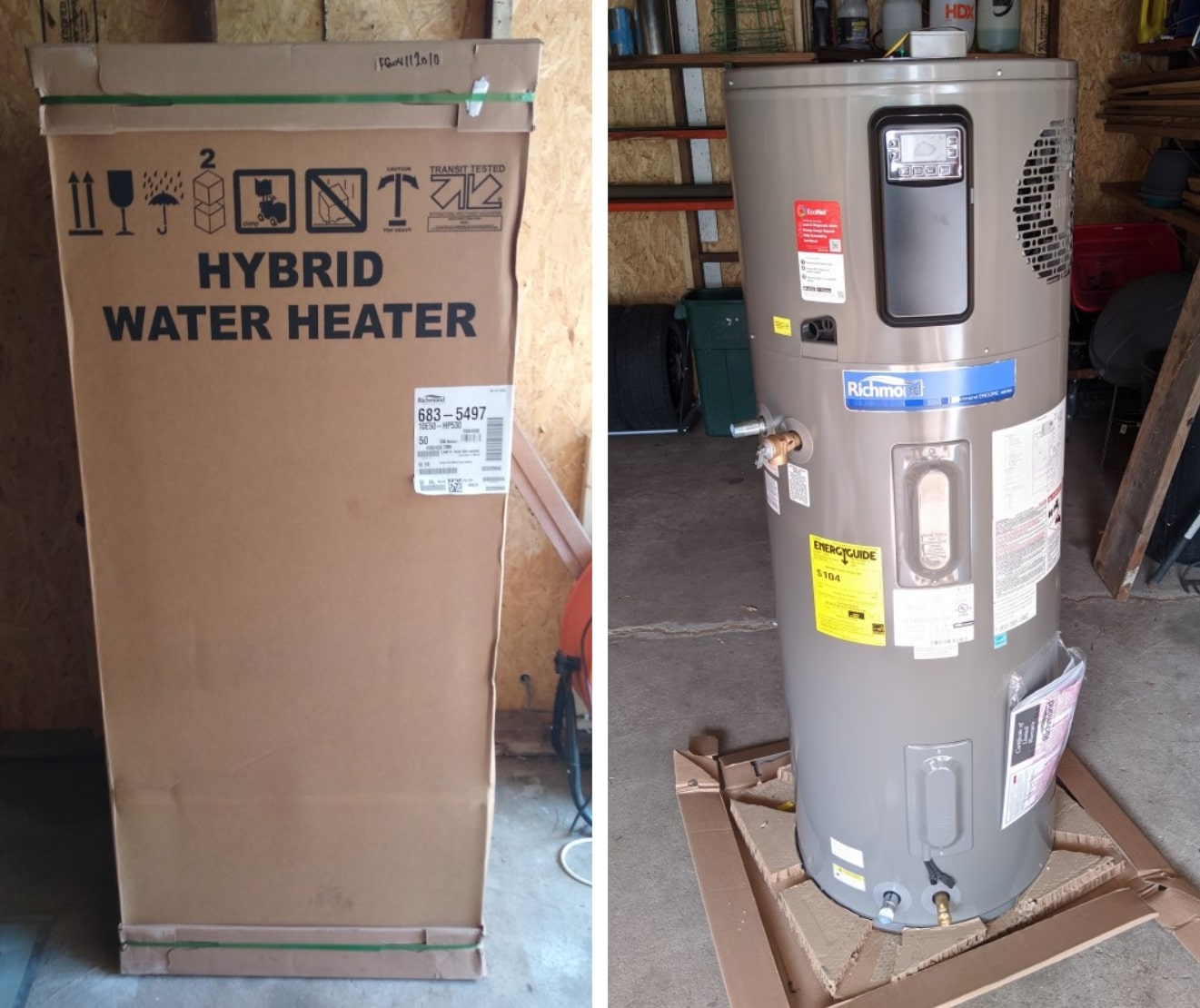 Here it is!
Step 2: Try not to drop it down the steps when bringing it to your basement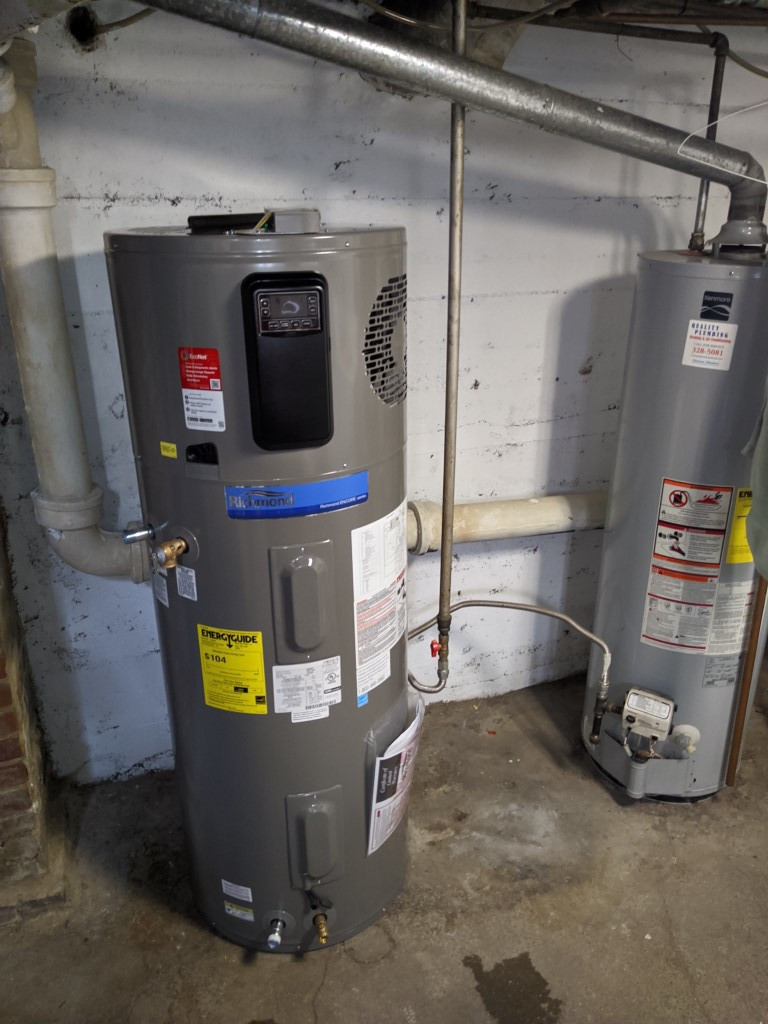 No damage done to either the water heater or the steps, but it certainly was a challenge. Since it has a heat pump on top, it's a bit heavier, weighing in at 218lbs. It's also quite smooth and slippery. You can see our old natural gas water heater to the right. It was a 35,500 btu, 40-gallon gas water heater.
Step 3: Remove the old water heater and sell it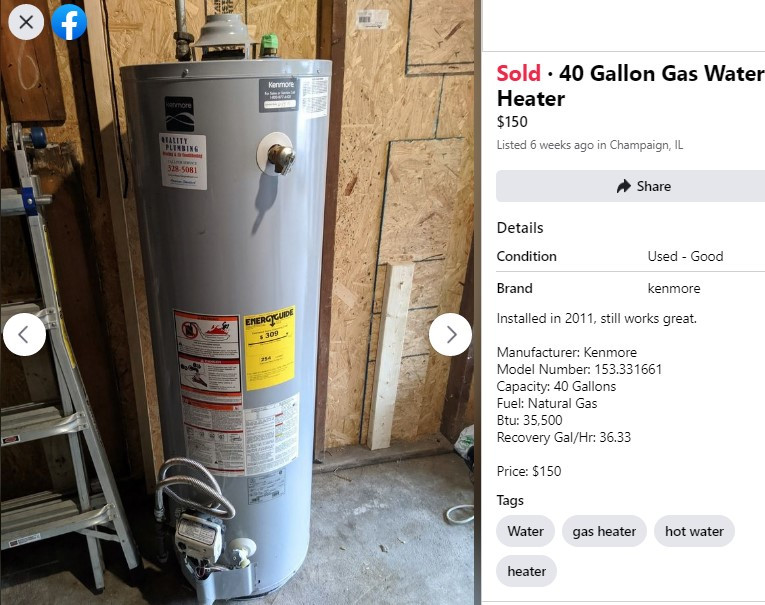 Another $150. Current new water heater cost is now down to $506.11
Step 4: Connect the new water heater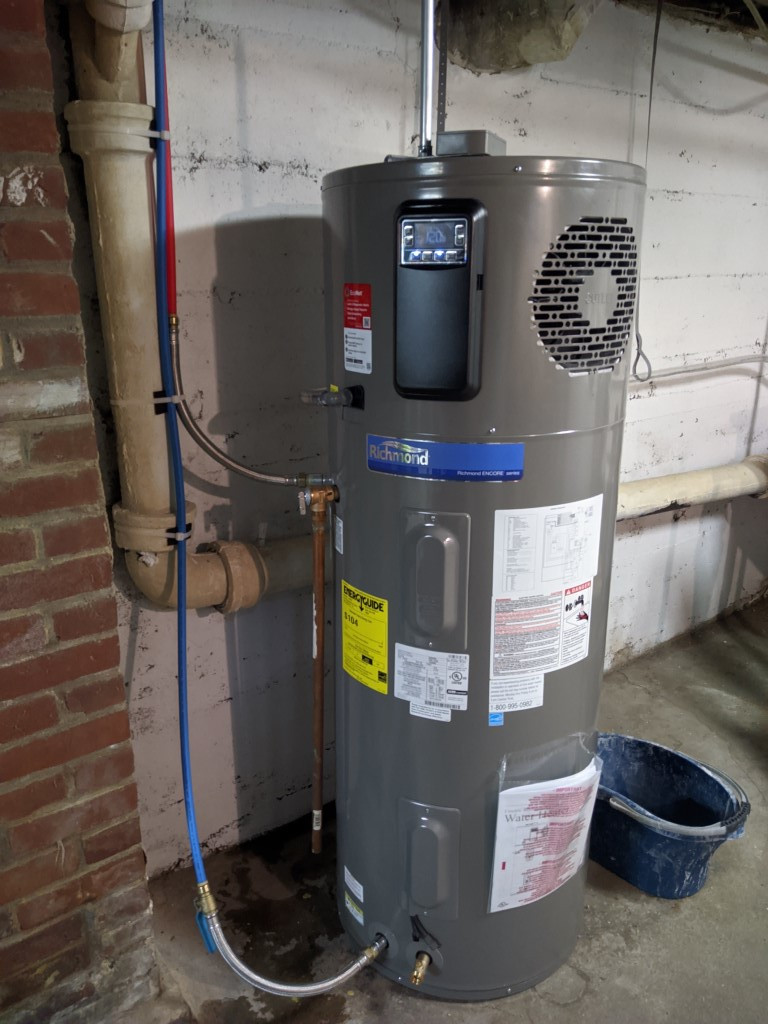 There are 4 connections to make for a heat pump water heater:
Cold water inlet
• SharkBite 18-in 1/2-in Push-to-Connect Inlet x 3/4-in FIP Outlet Braided Stainless Steel Water Heater Connector with valve (Model #U3068FX18BLZ)
Hot water outlet
• SharkBite 18-in 1/2-in Push-to-Connect Inlet x 3/4-in FIP Outlet Braided Stainless Steel Water Heater Connector without valve (Model #U3068FX18LFZ)
Condensate drain
• 3/4" Barb x MIP Nylon Elbow
Electrical supply
• 30A, 2 pole circuit breaker
• 10 gauge NM-B cable (2 conductors + ground)
This was my first time using PEX tubing and SharkBite fittings, and all I can say is that it's basically cheating. It's so easy. It hurts to think about all the hours I've spent soldering copper pipe (poorly).
The only thing that's different between installing this heat pump water heater and a standard electric water heater is the condensate drain. The water heater will be cooling and dehumidifying the area around it, so it will condense out water, which needs to be run to a drain.
Energy Usage
If you've made it this far, I'd imagine it's because you're looking to see how the water heater performs. One of the nice things about this particular water heater is the built-in WiFi connection and app. The app allows you to view historical data, on a day, week, month, and year level.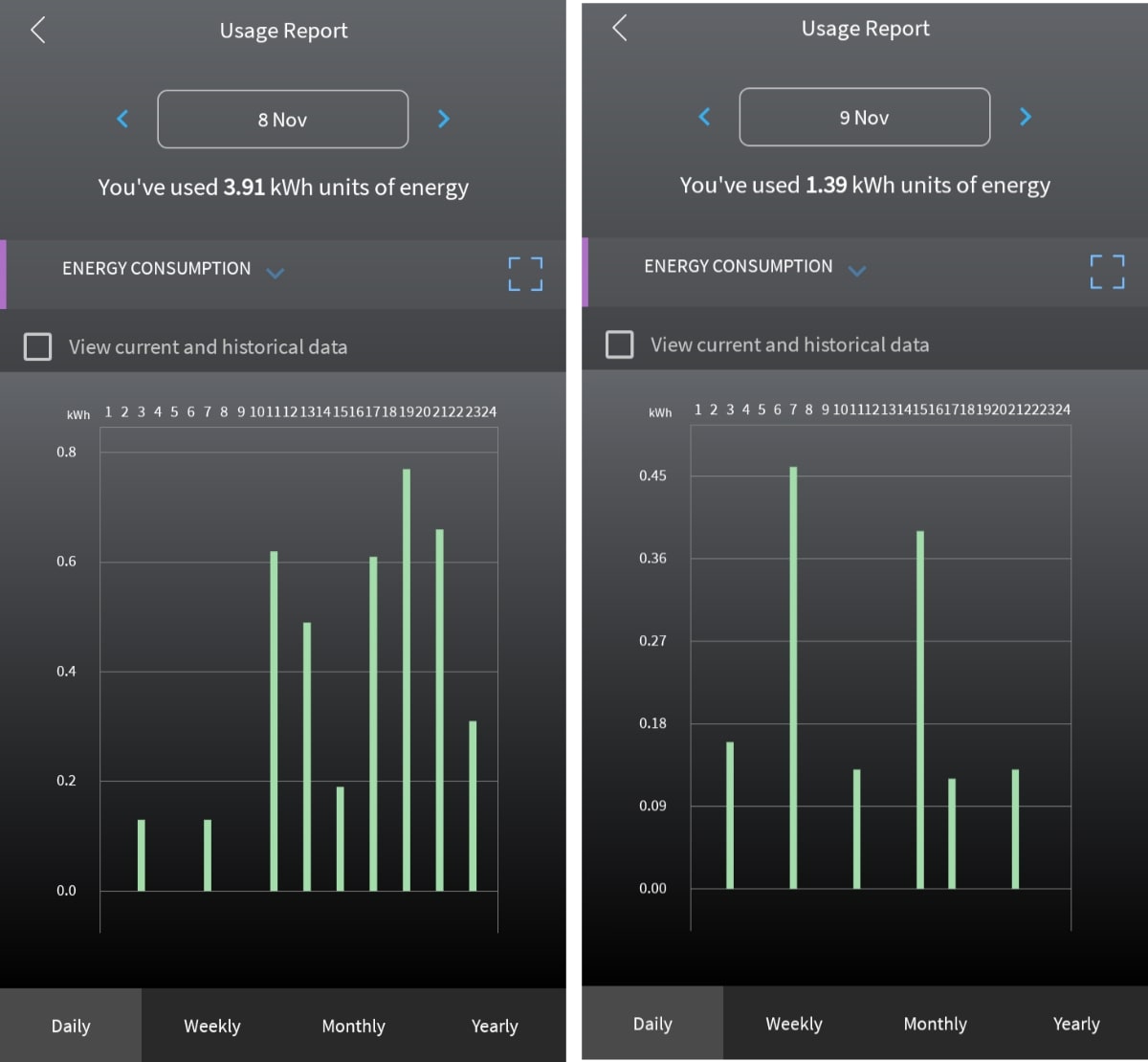 These are examples of Sunday, November 8th, and Monday, November 9th. Sunday is our meal-prep day, so we do a ton of cooking and cleaning. In contrast, Monday's hot water usage is much less, primarily consisting of a shower and washing dishes.
Now let's take a look on a larger scale, comparing utility bills from a month with the natural gas water heater, and a month with the new heat pump water heater. Even though Ameren Illinois has waged war on my front yard, I do have to give them credit for the amount of energy usage data available on their website. I can view electric and gas usage all the way down to a 15-minute time scale, and they even allow you to export your historical data into a CSV file.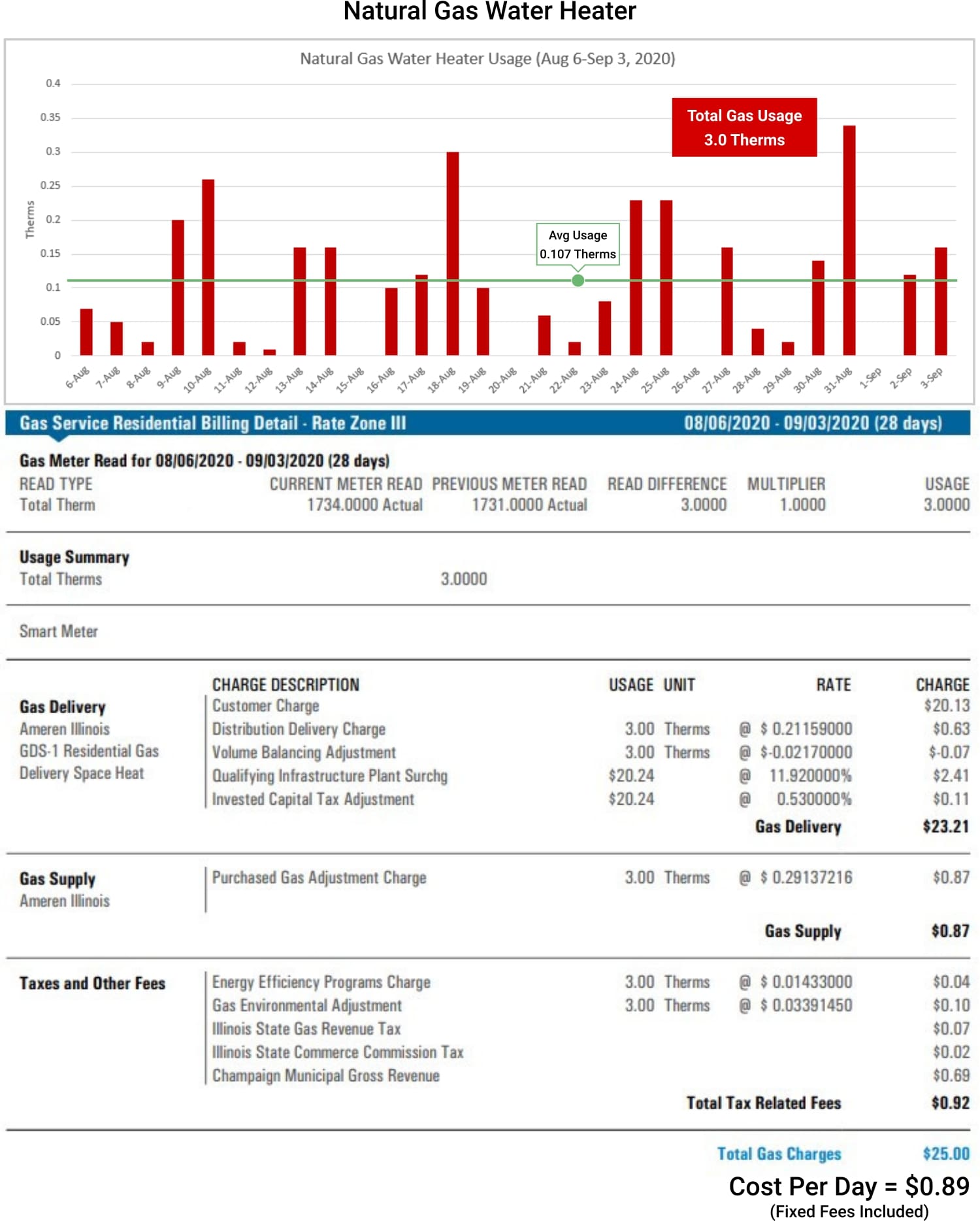 Here is my natural gas usage and utility bill from Aug 6th through September 3rd. Keep in mind, the only natural gas appliance in our home during this month was the water heater, so all the gas usage could be attributed to the water heater. Throughout the billing month, the water heater used approximately 3 Therms worth of natural gas, and the total gas charges were $25 (including fixed customer charges), so the average cost per day ends up at around $0.89 (or $0.17 for gas and $0.72 for being a loyal customer).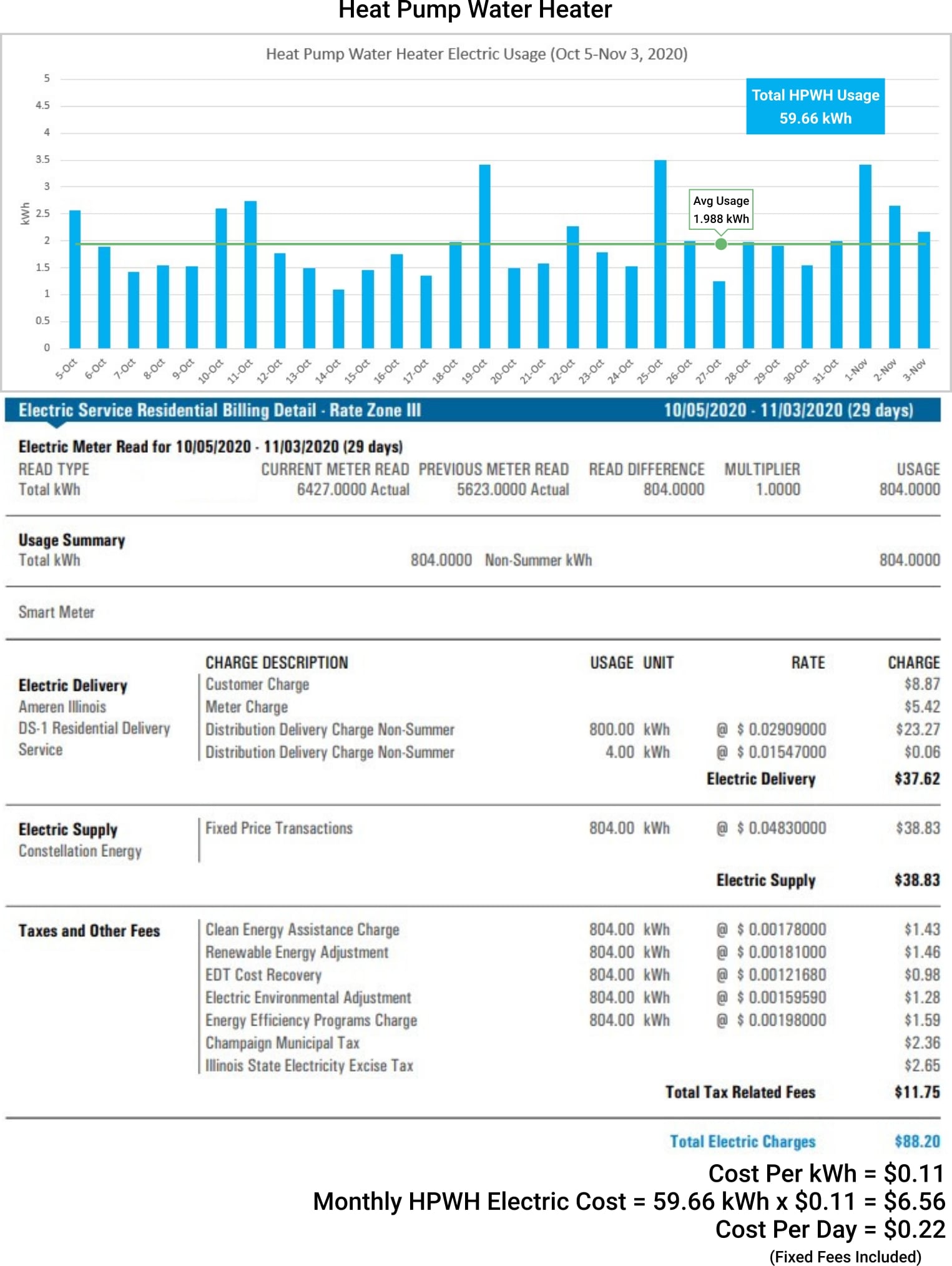 Next, we see the electric usage from the brand-new heat pump water heater. There are still customer charges, but I don't have the $20.13 fixed natural gas charge, so now the daily hot water cost is down to $0.22!
It's Payback Time
Cost of the new HPWH after rebates and sale of old water heater: $506.11
Cost savings per day: $0.89 - $0.22 = $0.67
Payback: $506.11 / $0.67 = 755 days, or slightly over 2 years.
So there you have it, it's economical and affordable! Aside from the direct month to month comparison of gas to electric usage, there are other benefits:
• No exhaust flue – less air infiltration
• Extra summertime cooling and dehumidification
• No risk of carbon monoxide poisoning or gas leaks
• No pollution from combustion
Interested in learning more about heat pump water heaters? Check out our 2018 article Hot Water.
---
New Lungs for a 101-Year-Old Home Pt.1: Integration of a CERV2 with an existing central furnace/AC.
New Lungs for a 101-Year-Old Home Pt.2: Total HVAC Replacement!